Quick Steps:
Log into cPanel>>Softaculous and click the WordPress icon.

Click the blue install button.

Fill all the details in the installation screen.

Finally, specify the email address for receiving the installation details and click "install".
In this tutorial, we'll go over using the included Softaculous to install a WordPress website on your cPanel web hosting account.
First, log into your cPanel account & locate the Softaculous installer as shown below & click the WordPress icon.
cPanel X3 theme: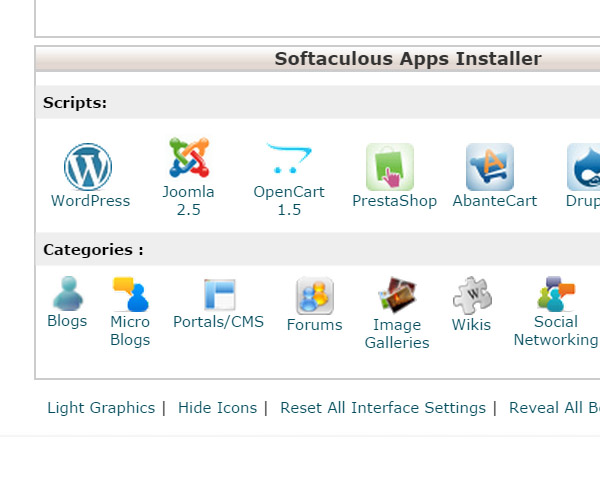 Paper Lantern theme: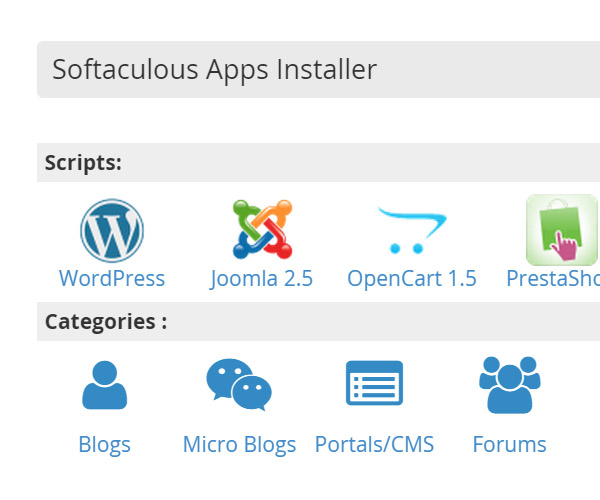 After clicking the WordPress icon, you'll be taken to the installer. The next step will be to click the blue "Install" button.
From here, you will have a few options to choose from. You will be able to select the domain to install WordPress on (if you have multiple addon domains) as well as the directory. If you want WordPress to be installed in a sub-directory, you can specify it in place of the "wp" shown in the directory field. This means you will go to http://yoursite.com/wp to view the WordPress site. If you want WordPress to be displayed in the root, you would need to remove the "wp" from the directory field and leave it empty.
In addition to the above options, there are additional options that we recommend changing from the default settings:
Username: Enter in a stronger username that is not easily guessed. For example, many hackers & malicious users know that most people simply choose "admin" as the default username. This means they now only have to guess the password.
Password: It's also recommended to use a strong password with uppercase, lowercase, numbers & special characters. At least 10-15 characters are recommended.
Next, we can enable optional plugins that can be preinstalled along with WordPress. We recommend installing the "Limit Logins" plugin for WordPress. By default, this is not installed as the checkbox is unchecked. Simply checking the checkbox will install this plugin. The plugin will block login attempts by IP address for the configured value for the number of failed logins to the WordPress site. Also, the Classic Editor plugin if you do not like WordPress's new Gutenberg editor. 
There's also a number of "Advanced" options found under the Advanced Options tab.
Database Name: A database name will be randomly picked by the installer prefixed with your cPanel username. You can change it as required but we recommend randomized names instead of a rememberable one as a security procedure.
Table prefix: We recommend changing this away from the default – a similar naming convention such as wp3he6_ will work – you can randomize the prefix for the database for added security. Keep in mind though, a number of steps must be performed to secure WordPress, this is only 1 of many.
The other options can be enabled by preference if you'd like automatic backups to run or automated upgrades. Please note, the automatic backups will count against your storage space. We recommend downloading your backups from your hosting account to your PC as we remove backups from our servers (generated backups) every 24 hours. Storing large amounts of backups can cause our daily R1Soft backups to fail.
Finally, you have the option to install a WordPress theme (aside from the default, which will automatically be installed) & to complete the installation. You can specify an email address in the box under the install button & the installation details will be sent to that email. If you choose to use the email options, we recommend changing your WordPress password after logging in as the email contains the WordPress password.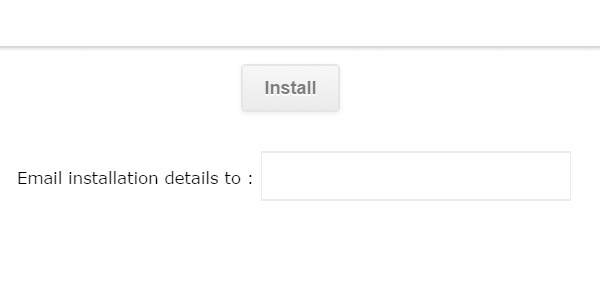 After clicking the "install" button, your WordPress website will be installed. You should now be able to browse to your domain and view your WordPress site.
---
If you have any web hosting questions please feel free to reach out to us. We're happy to help.
---
Our Guiding Principles
Provide consistent, stable, and reliable web hosting services.

Ensure rapid ticket response and quick resolutions to issues.

Never saturate or over-provision servers to ensure stability and speed for our customers.

Use only high-quality enterprise-class hardware to ensure minimal downtime from hardware failures.

Provide clear pricing with no hidden fees or gotchas.